Dr. Vick Cheba is proud to offer orthodontic treatment options like traditional braces in order to help straighten your smile.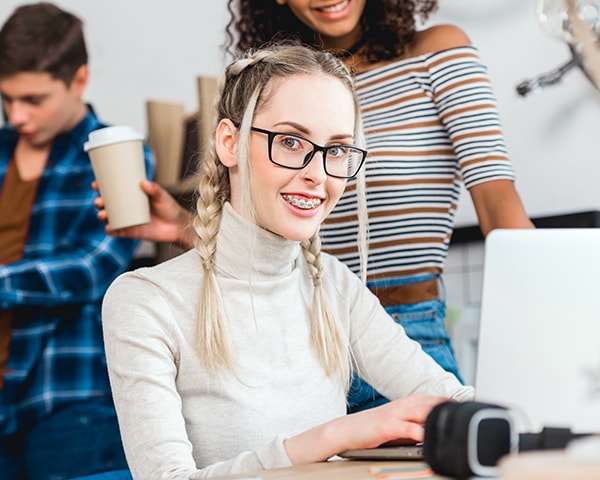 How Braces Work
The goal of orthodontic treatment like traditional braces is the same for children, teenagers or adults – to straighten teeth so they look and feel as best as they can.
Braces offer many health benefits because they properly align teeth to make biting, chewing and even speaking easier than with misaligned teeth. They achieve this goal by placing gentle pressure on the teeth in order to move them into a correct and healthy position over a period of months to years.
The Treatment Process
Dr. Vick Cheba is committed to offering you support throughout this orthodontic process, from beginning to end.
Starting orthodontic treatment with traditional braces can seem like a daunting experience, but Dr. Vick Cheba is committed to addressing all of your concerns. He offers traditional braces for children, teenagers, and adults to help keep all of his patients' smiles healthy and properly aligned. 
Once your braces are in place, you will attend regular appointments with to adjust their pressure and monitor your progress.
Traditional Braces
Made of either ceramic or metal, traditional braces have been used for decades by orthodontists to straighten teeth.
Recently there have been a number of advancements in orthodontic treatment that have helped make braces low-profile. These advancements have made care for braces easier than ever and ensured that they are much more comfortable to wear now than they ever have been before.
How Braces Straighten Teeth
Braces apply slight and continuous pressure to the teeth they are attached to. Over the course of 8 months to 48 months, depending on the patient, they will move misaligned teeth into their new and correct positions.
As pressure is applied to the teeth and they move through the mouth, the bone of your jaw will change its shape to accommodate the new positions of the teeth.
Living with Braces
Having braces comes with its own sets of requirements and restrictions, whether they be on what you can eat and how you need to clean your teeth.
Ask Dr. Cheba about what is involved in caring for your braces and your mouth during your next appointment!
Braces for Teens
While braces can take as long as 5 years to fully align teeth, don't worry! Usually, they only take 1 to 2 years.
And while - unlike younger children - teenagers with a full set of adult teeth require full braces to correct misalignments, there are many options available to personalize your braces and find the kind that fit your needs! 
Braces for Adults
There is no age limit for effective orthodontic intervention! Teeth are able to more or less just as effectively in young patients as in adults. It's never too late to improve the health and appearance of your smile with traditional braces.
Lingual Braces For a Low-Profile Aesthetic
Lingual braces (also known as invisible braces or hidden braces) are placed on the inside of your teeth instead of the outside like regular braces. This allows for comprehensive orthodontic treatment while keeping your dental appliance hidden from view.
This option is an excellent choice for teens or adults who want straight and healthy smiles, but want to keep their orthodontic treatment to themselves!